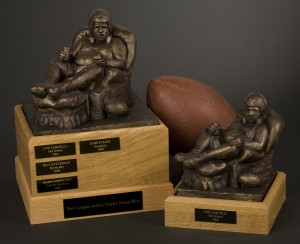 It's a long time until September, but I figure it's as good a time as any to put out my first mock draft. Here we go.
NOTE: This is for a RB heavy league that rewards 6 pts for a rushing TD and 3 for a passing.
1. Chris Johnson– I just don't see how this guy isn't the first pick next season.

He's a TD waiting to happen every time he touches the ball. And with Vince Young under center for the entire season I only see Johnson getting more opportunities as the offense should be on the field and in the red zone even more.
2. Adrian Peterson– If the Vikings get their heads out of their asses they'll realize they have Adrian Peterson standing right behind Brett Favre. Hand the damn ball off! Peterson should be the number one pick, but he won't be because Favre slings it around too much. He'll still be good for 1,500 and 15 Tds.
3. Maurice Jones-Drew– Two words: PURE STUD. The Jaguars don't have much else besides MJD and defenses still couldn't stop the guy. Like the two listed above him, he's on the field all the time in the red zone and will get his touches. One of the safest picks you can make.
4. Ray Rice- This is where decisions will have to be made. The top 3 are easy. Rice proved he can be the man in Baltimore and carry the load. He could be next years Matt Forte or he can drop 1,500 and 15 tds. He's worth the gamble.
5. Cedric Benson– Yes, I'm putting Benson at 5. Cinci will still have a strong offense and Benson is their work horse. Look at his numbers prior to his injury and what he did against the Jets in the playoffs and I think he deserves this slot.
6. Frank Gore– The guy may not be pretty, but he gets the job done. Gore will be in the red zone even more next season with the improved offense of the 49ers and his stats will bare witness.
7. Michael Turner– This is one pick that could go all the way to #4 depending on how he looks in the pre-season. Turner was a disappointment this year to say the least and injuries got the best of him. Look for him and the Falcons to rebound next year. I'd love to get him at 7.
8. Drew Brees– Yes, I know Rogers finished the season with better fantasy numbers but I just gotta go with Brees as the number 1 QB. I think the Packers will rely on Ryan Grant more next season and Rogers will slip down just a bit. Brees is a much safer pick to put up his monster numbers.
9. Jamaal Charles– I know it looks crazy to have a Chief RB this high, but look at the guy's numbers when he became the starter- they're insane. I hate taking players from bad teams in the first round so it's hard putting him here, but I think he'll deserve a first round slot.
10. Peyton Manning– Manning is Manning and he'll get his. One of the safest picks you can make and getting a RB coming back isn't that bad.
11. Ryan Grant– The Packers leaned on Grant more at the end of the year and it showed. Look for his numbers to go up even more next year as the offense continues to roll and is in the red zone more consistently.
12. Andre Johnson– Could a receiver be more under the radar? He doesn't get the same press as Moss or Wayne but his numbers are going to be better. He's an animal every year and impossible to cover where it matters most– the red zone.