Why does Dad always get the shaft when it comes to father's day?  Mom gets jewelry, chocolate, and flowers while Dad has to settle for the lame tie, socks, and a tool -if he's lucky.  This post is for the dads out there.  Well, it's actually for the moms who hopefully run across this post and realize that the man helping to raise her wonderful kids deserves more than just that horrible tie.  It's for the siblings who now have a job and a college education( in large part to Dad) and can afford more than that sweater you were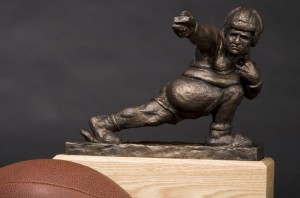 about to give him–AGAIN!  Doesn't Dad deserve more?  Show him some true father's day love.
Give Dad a gift he'll remember and not a Father's Day present that will end up buried in the back of his closet with the others.  Baseball  is in full swing and football season is right around the corner.  What about giving Dad a trophy for his fantasy league?  Take a look at the Armchair Ace, The Throwback, or the Armchair Quarterback (FantasyTrophies.com) and understand that they're a gift Dad will remember and cherish long after this Father's Day is over.   It's a gift that keeps on giving and one he'll be sharing with his buddies.  You'll be turning your Dad into the hero of his draft when he shows up with one.  So take that tie  and the "worlds greatest Dad" coffee mug back to the discount store you bought it from and give the man who helped to bring a life into this world a truly memorable Father's Day gift.