Like so many other fantasy owner's who took Calvin Johnson, I'm searching the web for any news on the status of his injury. ESPN's John Clayton reported last week that he looked like he was going to play and then the dreaded "game-time decision" reared it's ugly head again and he sat out another week. This week it looks as though it's going to be more of the same.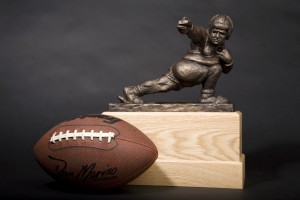 Now I don't mind dealing with the injuries and trying to figure out who will be the best start for the given week. That's all part of fantasy. However, what does piss me off is when I go against my gut and draft a player that I wasn't high on just because he fell to me. Most "experts" (really just guys with more time on their hands than most of us) had Johnson going around pick 14 -18 ahead of guys like Reggie Wayne and Marques Colston. When he fell to me at pick 24 in rd. 2 I knew I had a decision to make. I BLEW IT! I completely went against my gut and my #1 rule when deciding between players. That being- draft players from good teams. I bought in to the hipe and took Johnson over guys that I had in the past and ultimately got burned. Calvin Johnson may still be a stud in the second half of the season, but Reggie Wayne and Colston ARE studs right now and would've placed my team in first place with possibly an undefeated record. Lesson learned- TRUST YOUR GUT.
Good luck in your search for info on his injury update. I can't help you on that.