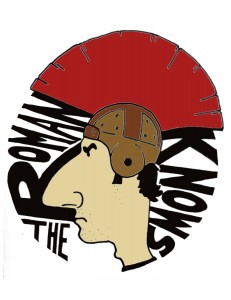 Hey Guys,
I thought I'd extend this offer out to all of you. Last year I designed a few logos for some of the guys in my league, after they came up with their team names, and they went over pretty big.
So it got me thinking that I could open it up for my incredibly loyal customer base.
If you think you'd want a custom logo for your team that isn't some lame computer generated piece of crap that the other sites offer, shoot me an email. (Dave@FantasyTrophies.com)
I'll work with you in developing the perfect logo to represent your team. I'm thinking the price range will be $50 and up depending on the complexity of the design and if you want it in color.
Pictured to the left is "The Roman Knows", the logo of my championship team last year, and a sneak peek at "The Roman Empire"- this years rendition. It's really just another way of trash talking.
Challenge me. – Dave