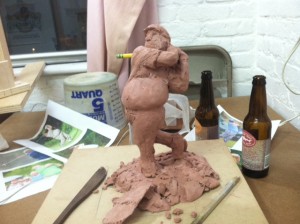 Over the years I've had numerous people ask me if I was ever going to sculpt a golf trophy. Not a trophy that would be specifically designed for fantasy golf, but rather a trophy that could represent their office league or be given as a gift to a lifelong golf fanatic. A trophy that would truly embody the physical demands riding around in a golf cart while drinking a six pack can put on the body. Well, that time has come. Yesterday I started sculpting a golf trophy that all hackers can be proud of.
As you can see, he'll still have that same "athletic build" you've come to expect from all of my trophies. The only difference is he won't have his classic man slippers on his feet.
Keep checking in- I hope to have it completed in a few weeks.
Dave