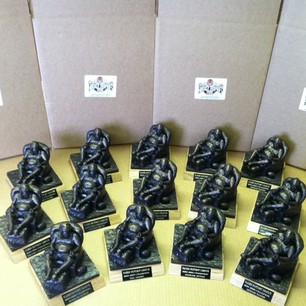 Before introducing my Mini series of trophies, I would get emails from guys all over the country asking when I was going to come out with a smaller version of the large trophies. It's great having the big guy for a full year when you're the champ, but having to give him up is always tough. Thus the Mini's were born.
This week a league out in Beverly Hills decided they would not only play for a Mini trophy every year, so that the champ would always have something to honor his accomplishment, but also ordered 14 Armchair QBs Minis for all their past champions.
Pretty awesome! It sets a new record at FantasyTrophies.com, beating the old record of 11 Throwback Minis sold to a league in New Jersey.
Fourteen Armchair QB Minis in sunny Beverly Hills…nice!