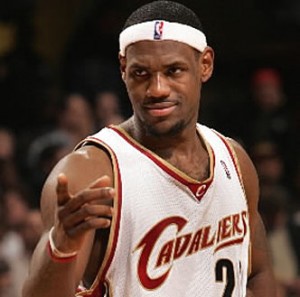 I can feel it. It's that nervous churning in my gut that is telling me I'm going to be disappointed once again in my Cleveland team. This time the Cavaliers. I don't want to feel it. Nor should I. The Cavaliers finished the regular season with the best record in the NBA and look to be the clear favorites to win the East. Sound familiar?
I can't help it- I'm a Cleveland fan. My gut has been conditioned more than Pavlov's dog and when the playoffs begin, it churns. I've felt it with the Browns in the 80's (thank you John Elway), the Tribe in the 90's (Damn you Jose Mesa) and now with the Cavaliers. It doesn't help that Lebron still has not committed to the Cavaliers beyond this playoff run and many believe he'll leave town for NYC if the Cavs don't win it all. Hasn't Cleveland suffered enough? I

try to hold out hope that he'll stay regardless of winning it all this year because he knows he's as close as ever and the Cavaliers have done everything in their power to bring a championship to Cleveland. Let's face it- if I believed otherwise my gut would be doing more than just churning. I'd probably be projectile vomiting at this point.
So as the playoffs begin I'll be dreaming of that elusive Cleveland championship with a bottle of my favorite I.P.A and a bag of pretzels by my side…and probably a bottle of Pepto-Bismol.