As I stood watching in total shock and disbelief, wondering what had just happened, I couldn't help but notice the faces of the other Cleveland fans. It was something I had never seen before on that scale. The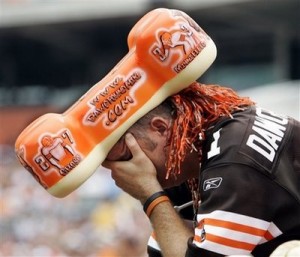 pain was palpable and we all shared in it. I turned to my buddy Bill and just shook my head. It was all over and there was nothing that we could do.
It was January 11, 1987 and John Elway was going to his first Super Bowl.
I was a 17 year old usher at old Municipal Stadium that horrible day, stationed on the field at the end of the game. Elway just finished his 98 yard march and the Broncos kicked the winning FG in overtime. I was busy forming a circle with other ushers around the perimeter of the field incase a crazed fan decided to charge. Little did my boss know, but I was planning on being one of those crazed fans. The goalposts were only yards away and I knew this was an opportunity of a lifetime- a story I'd tell my grandkids. Bill was sure to follow. Unfortunately that chance never came. Instead I found myself staring up into the stands at so many people who must've looked just like I did. Our hopes and dreams of a championship gone in what seemed to be an instant. So many didn't want to leave the stadium and had to eventually be told to go home. Was it all really over just like that? Cleveland was so close we could all taste it.
As the entire sports world awaits Lebron James' announcement, I can't help but think back to that cold January day. It is something that, as a Cavaliers fan, I wish Lebron had experienced himself. However, being that he was only 2 years old at the time I think it's safe to say he doesn't really remember it. That's too bad. I believe that experience would possibly have a small affect on his decision to leave a city that has shown him so much love. A city that is dying for a championship. The Drive, The Fumble, The Shot, Red Right 88, the Indians and game 7 and of course the Browns leaving town are all part of the pain and suffering of being a Cleveland fan. If Lebron decides to go it will be different though. He's one of our own. A northeast Ohio guy who has to understand the pain and frustration. He lived through the Browns leaving town and knows how it ripped the heart and soul out of the city. He no doubt felt the agony of the average fan as Cleveland was left with nothing but an empty stadium and empty dreams. He's heard the stories of fans who would give anything to experience a championship season just once in their lifetime. He has to know what it will do to Cleveland if he, like Art Modell, decides to pack it all up and leave for somewhere else. If there is such a thing as a "death blow" in sports, certainly Lebron would be delivering it to his hometown.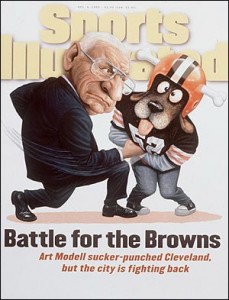 So as tonight approaches I, like so many other Cleveland fans, will tune in to watch as Lebron decides not only his future, but what seems like the future of Cleveland itself. He can help to wash away so much of the painful past Cleveland fans have experienced over the last 50 years, or can be forever associated with the likes of John Elway and Art Modell. It's a decision I'm sure he hasn't taken lightly. I just wish he could make the announcement from old Municipal Stadium while looking out at all those fans from that cold wintery day 23 years ago. After all, so many are still waiting to charge the field and take down those goalposts. Including myself and my buddy Bill.