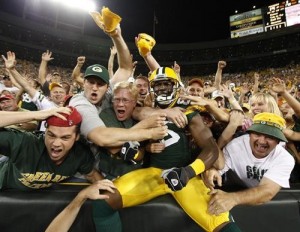 I've never been one to say that I have a second favorite team. The Cleveland Browns are it for me and always will be. However, I have a certain admiration for the Green Bay Packers and truly hope they beat the living crap out of the Steelers today. (What can I say? I'm a bitter Browns fan) Packer fans are much like Browns fans. Hard working people from a blue collar town that follow their football team like it's a religion. Unlike the Browns though, and the rest of the NFL, the Packers are owned by the fans and not by some billionaire asshole that can hold the city hostage until he gets what he wants. Ask Minnesota fans if they'd like to be shareholders in the Vikings right about now. Or think back to when that scum of the earth, Art Modell, ripped the Browns away from Cleveland and took them to Baltimore- only to eventually sell them years later.
The Packers will always remain in Green Bay and for that reason alone I find myself rooting for them more than any other team besides the Browns. It's the one franchise that you feel the team's sense of loyalty to the city is equal to the fans commitment to the team. I only wish all teams were run this way.
So when the Packers hit the field against the Steelers today I'll no doubt be cheering for the guys in yellow and green and thinking of the Packer fans back in frigid Green Bay.
I guess for one day only I can have a second favorite team. Today ONLY though. Go Pack!