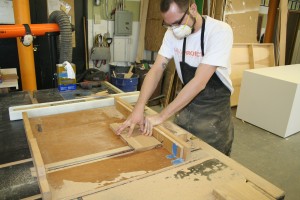 March Madness may be going on right now in college basketball but you could say it's BASE madness here at the shop. This time of year always signals a great time for us to stock up on our oak bases for the upcoming baseball season and of course for football season in the fall.
Our bases always get the short end of the stick when looking at one of our trophies and I figured I'd write a little something so they could get a little respect. Hey let's face it, who the hell looks at the base when the sculpture part is sitting on top? But really the base deserves a lot of attention in the overall design of one of our trophies. After all, it does make up half of the product itself and is the place where hopefully your name will be forever displayed.
Not to mention that we only use solid oak for every base and cut, sand, assemble and poly each right here at the shop. It's something that I take great pride in– the fact that every base is Brooklyn made and that we're not getting these things whipped together in some crappy factory that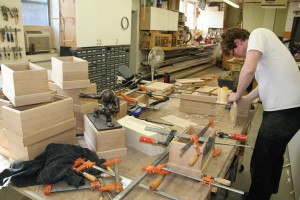 only uses composite wood and laminates.
When a league decides to order one of our trophies they're ordering the best fantasy sports trophy on the market, period. That means from top to bottom- sculpture to base.
Now if you don't mind, I have to go back to polyurethaning.
Take care,
Dave