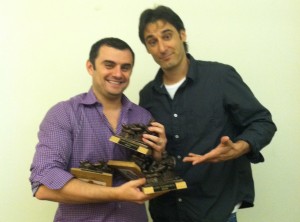 Today I was able to meet and thank someone who has really helped in the evolution of FantasyTrophies.com. The thing is, Gary Vaynerchuk had no way of knowing just how influential he's been in developing my business. How could he? He's been busy writing two best selling books called "Crush It" and "The Thank You Economy" along with running his social media consulting company, Vaynermedia, while also doing speaking engagements all over the globe. I guess I'll give him a pass this time on not seeing the progress of FantasyTrophies.com and keeping up with it's rapid rise in the incredibly competitive world of fantasy sports trophies.
All kidding aside, it felt great to hand deliver Armchair Ace trophies to Gary at Vaynermedia in Midtown Manhattan and to say thanks for helping to explain how someone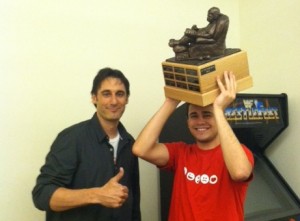 can take a hobby or a passion of theirs and turn it into a money making career.
Thanks again Gary and good luck winning that Shifrin Trophy back! I have a feeling your brother AJ won't be giving it up without a strong fight.
Dave
Check out the video Gary shot of me with his brother AJ holding the Shifrin Trophy.