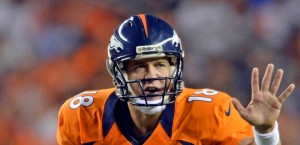 1. Houston Texans (9-1) –It pains me to put them here because I still don't fully believe it, but they keep on winning. Arian Foster is the reason they're above Atlanta.
2. Atlanta Falcons (9-1) — They pulled a win out this week even with Matt Ryan's 5 INTs. The Falcons look like they'll have a healthy Roddy White and Julio Jones going forward and thus are #2.
3. New England Patriots (7-3) — The offense is a fine tuned engine once again but that engine lost its Gronk. We'll see if the Pats can stay at #3 without him in the line-up for 4-6 weeks.
4. Green Bay Packers (7-3) — Clearly the Pack isn't fully back but Rodgers continues to get it done by just enough. They're still banged up and the loss of Greg Jennings is still killing them. Just too many weapons still with Cobb and Nelson to keep them out of the top five.
5. Denver Broncos (7-3) –Peyton Manning as league MVP and comeback player of the year? Perhaps. As long as the defense keeps playing well the Broncos are going to be a force in the league.