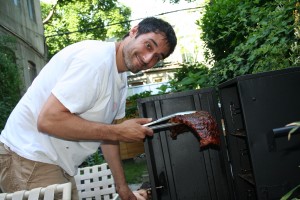 I just got through devouring a full rack of smoked Kansas City style ribs from my recently purchased smoker and I think it would be a crime if I didn't share the secret to their success. It goes without saying that you have to start with a great cut of meat. I go to my local butcher at the Meat Market in Windsor Terrace, NY. 3 racks of pork spare ribs later and I'm off and smoking. Well, that is after I take off the thin membrane on the underside of the ribs and throw on my Kansas City style rub. Only this time I kicked it up a notch and added a little Nigerian cayenne pepper and a dash of creole seasoning. Spread a little yellow mustard on the ribs before you slap on your rub so that every bit of that flavor sticks to the ribs. Don't be shy with the mustard- you won't taste it in the end. I haven't figured out why – I chalk it up to chemistry. I then threw some apple chips in the smoker with a little apple and orange juice mix in a water tray for extra moisture. Get that smoker cranking at 225 degrees, throw in your meat and 5-6 hours later you'll be licking every bit of those ribs off of your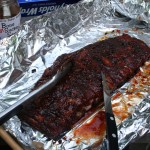 fingers. Oh, I almost forgot. I spread a generous amount of HOT Bone Suck'in Sauce on the ribs for the last 45 minutes of the smoke. Then I took them out, wrapped them in tin foil and covered them with a towel for about another 15 minutes. This helped to keep the juice and flavor trapped in the ribs. Crack an ice cold Brooklyn Lager and you're good to go. If you like spicy food you'll love these ribs. If you're like my wife, you'll be reaching for a glass of water every 10 seconds. Either way, they'll be memorable.
Give it a try and tell me what you think. Damn, now I'm hungry again.