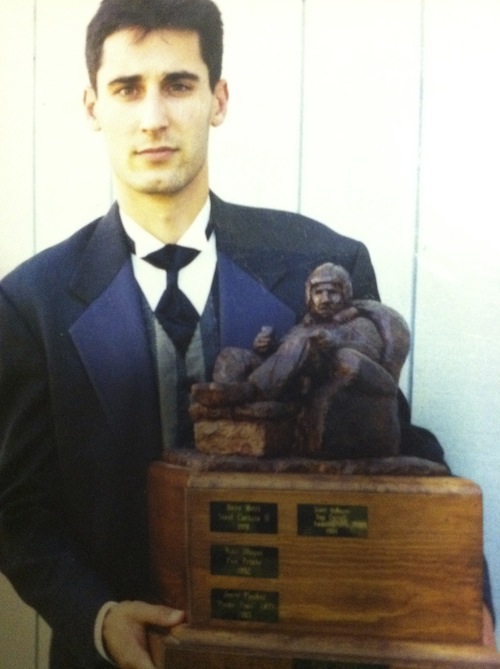 As I sit in a campground in Moab, Utah, getting ready to skydive,  I, for some bizarre reason, started thinking about how FantasyTrophies.com came to be.  Fantasy Trophies started way back in 1993 when I was going to art school at Kent State University and decided I'd sculpt a trophy for my fantasy football league.  I was taking all kinds of classes that emphasized looking at naked people all day so that I could learn about human anatomy.  One of those classes was life sculpture.  Even though I was a painting major, life sculpture turned out to be one of my favorite classes.   Anyone that has ever taken a sculpture class knows the demands of trying to capture a likeness or the subtleties of the human form.  I thrived on this challenge.
It was in this class that the idea came to me to sculpt a figure that would become my fantasy football league's crown jewel- The Fedele Trophy.   I grabbed some clay and went to work sculpting a figure based off of my cousin Johnny.  Talk about an uncomfortable phone conversation when I asked him to model.   My cousin was all in though and loved the idea.  After some preliminary sketches, I went to work.  The figure was probably completed in about a month or so and then I had to make a soft plaster mold and pour the trophy using a much harder casting plaster.  After it came out I painted it and then mounted it on a pine base.
Looking back now I realize what a piece of crap it was.  However, that fantasy football trophy turned out to be the impetus for what would later become a business run first out of my parent's garage and now out of a shop in Brooklyn, NY.
You never know when a great idea will strike.  I'm just glad I had one while going to college.  One in 4 years isn't so bad I guess.  I'm not sure the idea to skydive will go down as one of those great ideas.   We shall see.  Photos to come later.
Dave