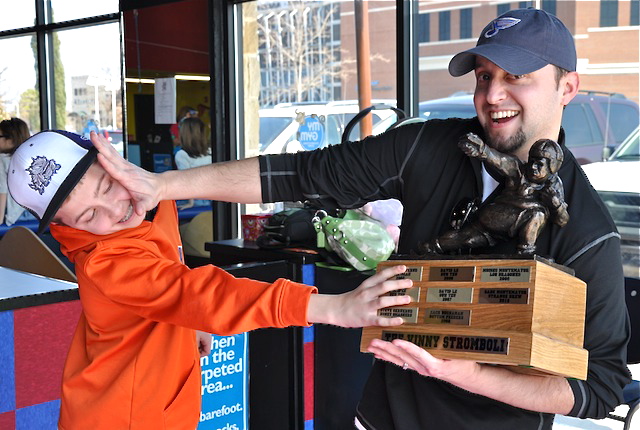 I'd like to first thank all of the leagues out there that sent in photos for our second annual Wall of Fame Photo Contest. With over 25 entries it was much harder to decide on a winner than I thought it would be. That said, in the end I decided to go with the photo of Gabe Montemayor giving a stiff arm to his son Tyler, while holding the Throwback. The fact that Gabe beat Tyler in their league's Super Bowl and then added insult to injury by going "Walter Payton" to his face was what put them over the top in my opinion.
Congratulations! Their league decided on the Ultimate Loser large base trophy as their prize.
Your league can win a trophy too! Make sure you get your photos in for this year's contest. You can send photos in even if your league is already on the Wall of Fame. Get creative, a single photo can earn your league a FREE Ultimate Loser large base trophy or one of our mini trophies.
Just send your entries to Dave@FantasyTrophies.com by March 31, 2012.
Ultimate Loser recipients are also welcome. That is if he or she lets you take their photo.
Good luck!
Dave