5. Allen Iverson– Almost always the smallest guy on the court yet played with the most guts. His best shot at a title came against Shaq and the Lakers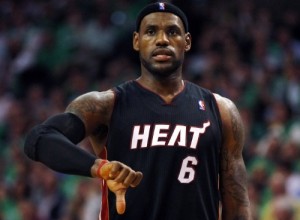 when the Sixers lost in 5 games.
4. Lebron James– Ok, so he's the only current player on here but he's also a 3 time NBA MVP, 8 time All-Star, 7 time All NBA team, and 3 time All Defensive team member. If he retires without a ring he'd easily be #1 on this list. James came close last year vs. Dallas but close doesn't cut it when you proclaimed you're looking to win "not one, not two, not three, not four…"
3. John Stockton– The all-time assists leader and king of the tight shorts, Stockton was pure class and a silent killer to boot. He had the unfortunate "luck" of playing during the same time as a guy named Michael Jordan. In 96-97 they pushed the Bulls to 6 games but MJ became MJ and John and his boys went home without a ring.
2. Charles Barkley– It's too bad young fans of today just think of Barkley as that bald, big mouthed guy on TNT that takes his shirt off and plugs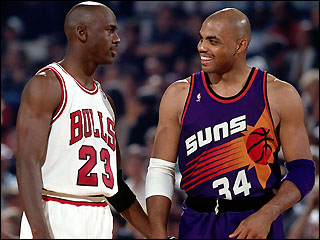 Nutrisystem.
There was a time when he was one of the most dominant players in the game. Coming into the league while Bird and Magic were still in it and then leaving when Michael Jordan was at his prime didn't help Barkley's chances at winning a championship. His best chance came in 92-93 when his Suns lost to the Bulls.
1. Karl Malone– When you're a 14 time All-Star and a two time league MVP and you don't have a ring, you can only be Karl Malone. Along with his teammate John Stockton, Malone ran into the Bulls and Michael Jordan at their prime. If not, he'd more than likely have a couple titles to his credit. Unfortunately the only title he has now is the best player without an NBA title.