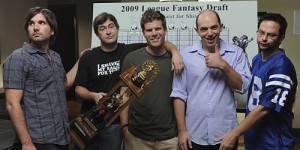 Since the TV show, "The League" has been on air and gained incredible popularity I can't help but wonder if the increase in sales I've seen is in some way related to the "Shiva Trophy." If you're not familiar with the television show it's about a group of fantasy football fanatics who eat, drink, and sleep fantasy football. They play for a trophy called "The Shiva" which is named after a girl the characters liked in high school. The trophy even has a photograph of her as part of the overall design.
I gotta say, the show is a bit corny for me and I never really got into watching it. However, I definitely want to thank the writers for including the idea of playing for a fantasy football trophy. It no doubt has helped to plant a seed in the head's of commissioners all over the country that playing for more than just cash is the way to go.
Maybe I'll have to give the show another shot as a show of gratitude.