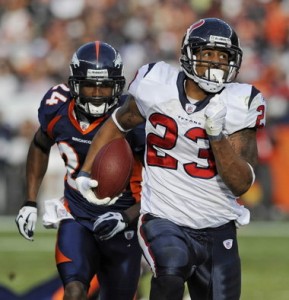 1. Arian Foster– Foster played in only 13 games but still managed 12 TDs and 1,200/600 rushing and receiving yards. He's the closest thing to a can't miss that you can get in fantasy and deserves the #1 spot.
2. LeSean McCoy– McCoy surprised a lot of fantasy owners this year with his durability between the tackles and how he took on contact. He's the ultimate dual threat and finished the season with 17 Tds. Sure the sub par play of Vick and Eagles QBs in general helped with McCoy's rushing yards, but he'll no doubt be the focal point of the offense in 2012 and will have another monster year.
3. Ray Rice– Many 2011 top 10 boards had Rice at this spot and he didn't disappoint. Baltimore didn't have a goal line back like in years past and Rice took full advantage. He's also a huge threat out of the backfield. You can't argue with 15 Tds and 1,300/700.
4. Drew Brees– It's tough to pick a QB this high but Brees is fantasy gold. Just start each week with 300 passing yards and at least 2 tds and you have Drew Brees. Consistency along with off the chart numbers is why you take Brees this high and hope for a RB to fall to you in round 2. 5,400 yards and 46 Tds people!!
5. Aaron Rodgers– Just read comment above but plug in around 5,000 and 45 tds! Gold!
6. Calvin Johnson– I've never drafted a WR this high but then again I've never seen a fantasy WR quite like Calvin Johnson. I'd say Matthew Stafford has proven he likes to throw his way too in the redzone. Pick him and grab a running back coming back. You're guaranteed 1,400 and 14 tds.
7. MJD– I hate drafting players from bad teams but MJD might be the exception. When you give a guy the ball 343 times you're bound to get fantasy points. MJD's lowest rushing output for the season was 63 yards on 18 carries against a tough Houston D. He led the league in rushing and let's face it– what else does Jacksonville have?
8. Tom Brady-When you have no running game and the weapons of Tom Brady on offense, it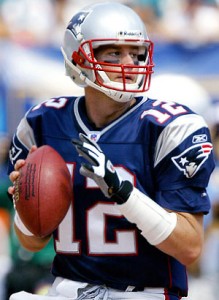 equals mind boggling numbers. 5,200 and 39 TDs later and we all take Brady for granted. Just plug him in your line-up and now worry about your other positions.
9. DeMarco Murray– This is my wildcard pick. Sure Murray broke his ankle and he needs to get healthy. However, he did lead the league in rushing while he was the starter and he looked like top 5 material. Also, an ankle isn't a full MCL and ACL tear (Adrian Peterson) so expecting Murray to come back fully healthy isn't a big concern. The preseason will tell us if he's ready to take on the load of a featured back, but his huge upside seems to be worth the risk.
10. Matt Forte– This is where it gets interesting. If Forte is still a Bear he should be top 10 material. The Bears relied heavily on Forte before he got hurt and giving him a huge payday will ensure he'll be the workhorse going forward. I'd hate to be in this position come this fall, but the preseason will tell a lot about Forte's 2012 fantasy stock.