I'm sorry to say but Tim Tebow will not appear on this list.
10. Wes Welker– This may not seem like much of a surprise until you realize Welker ended the season as the #1 overall WR in both PPR and standard scoring leagues after being drafted around the 4th or 5th round in most leagues.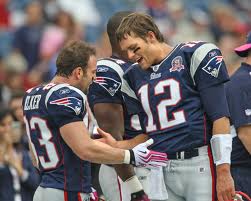 With 1339 yds and 9 tds, it's scary to think what he could've put up if Brady didn't develop his love affair with Rob Gronkowski.
9. Steve Smith– Washed up, over the hill, past his prime, has a rookie QB throwing to him…Smith only went on to post 1217 yards with 5 tds while finishing 7th overall for fantasy wide receivers. I'd call that a surprise.
8. Darren Sproles– Remember the guy in your league that drafted Mark Ingram in the 3rd round? How many times do you think he swore at his television watching Sproles continually take carries away from his guy inside the 20? Sproles turned into more than just a 3rd down back this year and ended as the 12th best fantasy RB. That would be ahead of Frank Gore and Steven Jackson….oh, and Mark Ingram.
7. DeMarco Murray– Arguably the bust out fantasy RB for this season, Murray came in for Felix Jones in the middle of the year and went on to average 17.28 fantasy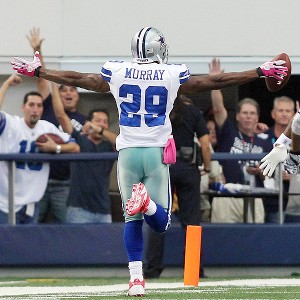 points from weeks 7-12 and led the league in rushing during that stretch. Not bad for a guy that wasn't even drafted in most leagues. It's too bad an injury will keep him out of the fantasy playoffs.
6. Michael Vick– How many guys listened to "the experts" and took Vick in the top 3 only to see him crash and burn get hurt? Many will say this wasn't a surprise to them, but the fact that Mark Sanchez and Ryan Fitzpatrick finished ahead of Vick in fantasy points is about as shocking as it gets.
5. Chris Johnson– The Vick equivalent at RB. When guys are benching their #1 pick for guys like Beanie Wells and Michael Bush you know they're in for a long year. Remember, Johnson's average draft position was 5th overall.
4. Jordy Nelson– This guy ended up as the 8th highest fantasy WR for the year after being drafted around the 12th round in most leagues. 957 receiving yards and 10 tds- That would be ahead of Greg Jennings by the way.
3. Victor Cruz– This was the pick-up player of the year. Undrafted in just about every league known to mankind, Cruz went on to post 1150 yards and 7 tds placing him as the 6th best overall WR. When you go undrafted and finish above Larry Fitzgerald, Greg Jennings, Hakeem Nicks and Vincent Jackson you are not only a surprise, but fantasy GOLD.
2. Rob Gronkowski– Considering he's only gone on to set an all-time touchdown record for TEs with 15 (and counting) this year, I think it's safe to say this guy was a bit of a surprise. Remember, Aaron Hernandez was Brady's favorite target in the preseason and was drafted ahead of Gronkowski in most leagues. Surprise!
1. Cam Newton– Imagine if on draft day you would've said that Cam Newton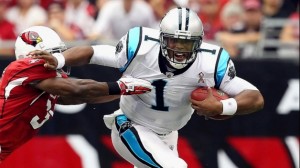 would finish ahead of Aaron Rodgers, Drew Brees and Tom Brady in overall points and would be the #1 fantasy QB. Your friends would've had every right to drive you to the nearest AA meeting and set you on your path of promising never to touch alcohol ever again. Rookies are not supposed to lead the league in anything- especially if you play for the Carolina Panthers! Newton not only is the biggest surprise for 2011 but possibly for the last 10 years of fantasy football. Imagine the numbers this guy will put up if he gets a receiver opposite Steve Smith and has a few more years under his belt cape. Scary.