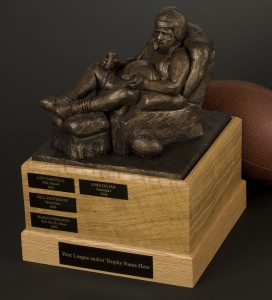 As the fantasy football season approaches I inevitably receive a few emails asking me for my opinion on which trophy I'd recommend for their league. As many of you know, my league has been playing for the Armchair Quarterback for nearly 20 years but it's primarily because it was the very first trophy I sculpted. It has history on it's side. However, I can obviously see the allure of the Throwback. The only real advice I give leagues on what trophy they should go with is this-
If you're in a league where guys are scattered all over the country and you'll be shipping it every year- I'd go with the Armchair Quarterback. It's just less likely to break in transport. The Throwback has been known to occasionally break if it's not packaged correctly and even sometimes when it is. And let's face it- do you really trust that one buddy of yours to package it correctly?
If the Throwback does break it ends up costing you $275 for just the sculpture top. The Armchair Quarterback can still chip or break but it rarely does if packaged the right way. It just has less fragile parts.
Either way you're clearly getting what I believe is the greatest fantasy football trophies in the world today but choose wisely. After all, soon your trophy will have it's own history and hopefully it won't include how your drunk friend thought his crumpled up sports page would be sufficient enough to wrap it in for its cross country journey.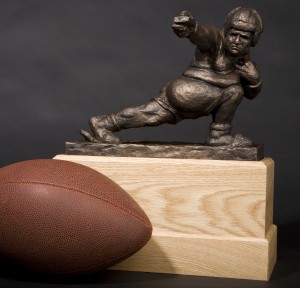 Good luck this season,
Dave